KOÈJU LIVE CLUB SESSION. EVERY THURSDAY @ NOMADEN
Clubnight dedicated to live club music.
Guest musicians, new expressions, live beats,
mix of electronic & acoustic music for the dancefloor.
10th December @ Nomaden – Bernt Ankers Gate
F E A T U R I N G:
TASSILI
Aissa Tobi – Vocals, Banjo, Fele
Abderahime Tobi – Vocals, Perc
Ketil Kielland Lund – Keys
Ole Jørn Myklebust – Trumpet
Luis Landa-Schreitt – Cajon
Endre Hareide – Bass
Kenneth Ekornes – Drums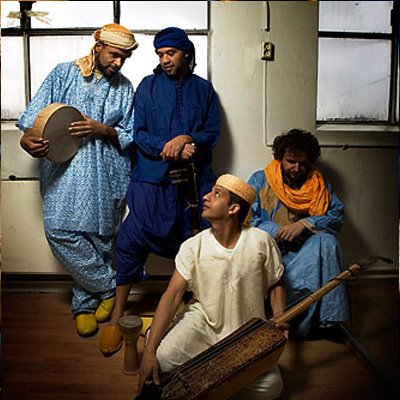 Tassili ble startet av Aissa Tobi og Ketil Kielland Lund. Orkesteret tar utganspunkt i stemmen, instrumentene og folkemusikken til Aissa. Tassilis musikk befinner seg i krysningspunktet mellom nordafrikanske og vestlige tradisjoner med Aissa som sanger og strengemann i sentrum. Ketil har bidratt med arrangementer, cd produksjon, vanning av kamelene m.m..
Aissa Tobi er fra Marokko og lærte å spille tradisjonsmusikk av sin bestefar i barneårene. Musikken Aissa og bestefaren spilte kalles Gnawi som er en lokal variant av Gnawa. Gnawa er kjent som transemusikk og har blitt brukt i healingritualer i Nord- Afrika. Musikkformen har eksistert i svært lang tid og er et resultat av møtet mellom islamsk sufi, vestafrikanske tradisjoner og marokkos urbefolkning berberne.
http://tassili-music.blogspot.com/
SHELDON BLACKMAN – VOCALS, GUITAR
Sheldon Blackman & The Soul Rebels The music I share is like food for the soul and enlightenment to the spirit, colourfull like the rainbow. Call it what you like, I call it "JAMOO" the gospel of Soca!! Roots, urban, Caribbean, conscientious heartbeat music. From conception, music has been an integral part of Sheldons life, he has grown up playing in a family band "The Love Circle" where his natural love for music was recognised at an early age and nurtured by the expert hand of his father the late great Ras Shorty I, pioneer of the musical genres of Soca and Jamoo- and father of the family band The Love circle. Sheldon Blackman, a bandleader, an accomplished composer, arranger, singer and musician, has accumulated an extensive collection of work and to see him live is to experience true world music fusion.
http://www.myspace.com/sheldonblackman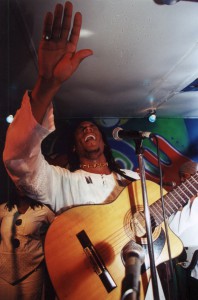 RESIDENT SESSION BAND:
Robin Sohrabi-Shiraz – Sax & Perc
Diego Brasil – Drums & Guitar
Åsmund Skuterud – Keys
Øystein Bendos – Bass
Baba – Vocals