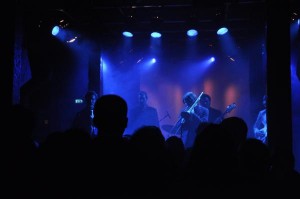 Blå | Klubb Koèju | 23:00-03:00 | 100,- | ID: 20
Arrangert i samarbeid med GLOBAL OSLO MUSIC.
BABA & BAND / DANCE & LIVE VIDEO / 3 LIVE BANDS / IPAD SHOW
Booom! masse liveopptredener skreddersydd for dansegulvet! Vi har booka inn intet mindre enn 3 klubb-band som holder gulvet i kok, ett sett hver, og mellom settene blir det både dans/video performance og flere soloinnslag. Klubbistisk extravaganza fra 23:00 – 03:00
Det blir storbesøk fra england, selve gitaristen i Cinematic Orchestra Stuart McCallum, og sammen med bl.a. en av norges mest renomerte trommeslagere, Per Oddvar Johansen, skal han gjøre et spennende klubbsett der elektronika og meditativt gitarspill kombineres med pulserende minimal techno. McCallum, som er på sin europa-soloturne med lansering av ny plate 'Distilled', har tidligere jobbet med artister som Ari Hoenig, Tim Garland, Don Weller, Kenny Wheeler, John Surman and Mike Gibbs.
Baba, som var fast vokalist på Koèju's jamkvelder på Nomaden i 2009, returnerer til prosjektet denne gangen og tar med bandet sitt for å gjøre en helt spesiell 'electro funk club mix'. Garantert høy temperatur! Med mer enn 20 artister på plakaten kunne vi skrevet en laaang tekst om hvert innslag, men istedet: TA TUREN og bli overraskert. Kan love mye goodies!
BAND (1): Stuart McCallum (Cinematic Orchestra) – guitar, Per Oddvar Johansen – el drums, Harald Lassen – sax & perc, Øystein Aarnes Vik – octapad, Åsmund Skuterud – synth
BAND (2): Baba – vocal, Jason Nemor – sax & perc, Guilherme Schmidt Camara – guitar, Øystein Aune – bass, Øyvind Lunde – el drums
BAND (3): Bendik Hovik Kjeldsberg – el drums, Jonas Johnsen – octapad/samples, Åsmund Skuterud – maschine
iPAD CREW: Øystein Aune – iKaossilator, Anton Lategan – iKaossilator, Åsmund – iMaschine
SOLO ACTS: Ina Björnberg- Olsson – vocal & fx, Sanskriti Shrestha – wavedrum (electronic percussion)
DANCE: Karen Høybakk Mikalsen, Catharina Gresslien, Katja Henriksen Schia
VJ: Mads Meskalin & Cuan Ladegan
DJ Baz
KOÈJU PROJECT:
A night dedicated to live club music. Host band, guest artists, new expressions, live beats, electronic & acoustic music for the dancefloor. Previous guest artists includes musicians such as Bilal (US) & band, Bilal & band, Stian Carstensen, Eivind Aarset, Norwegian Chamber Orchestra, Arve Henriksen, Karl Seglem, Steinar Ofsdal, Mathias Eick, Rajasthan Roots, Mathias Stubø, Thomas Strønen, Morten Qvenild, Quick Crew (Dance) and many others!