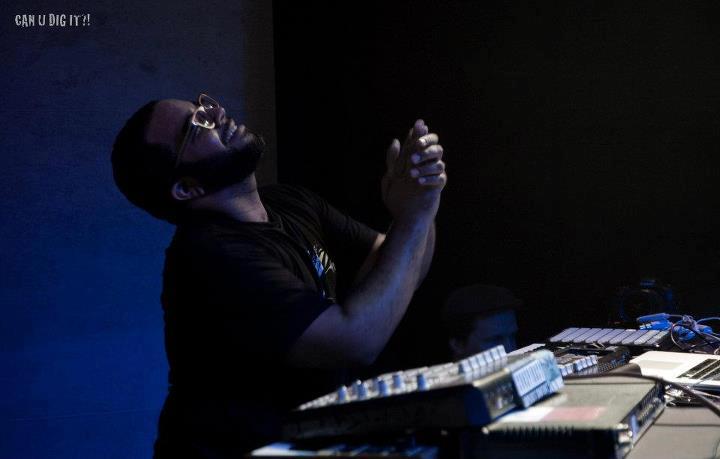 FREDAG 6.APRIL | KL.23:00 – 03:00 | 100,- | ID: 20 | KOÈJU.COM
Heftig live show fra KRTS Hairston (Brooklyn/ Project Mooncircle) og Bendik Baksaas Band + Beats Jam i kjent Koèju stil.
Arrangert i samarbeid med Global Oslo Music.
- – -

23:00 DOORS OPEN // DJ BAZ
23:30 BENDIK BAKSAAS BAND:
Bendik Baksaas – electronics
Aleksander Sjølie – guitar
Jonas Barsten Johnsen – drums & octapad
00:30 CLUB JAM SESSION:
Bendik, Aleksander, Jonas &
Krts Hairston – electronics
Kristoffer Eikrem – trumpet
Magnus Nergaard – bass
01:15 KRTS HAIRSTON SOLO PERFORMANCE
02:00 DJ BAZ
Cuan Lategan – visuals
Christian Obermayer – sound engineer & live fx
- – -

KRTS HAIRSTON
The tracks are filled with haunting samples of machinery, vocals and distortions that are heavily manipulated and transformed into melodies over "Boom Bap" percussions. The song sounds like a garage with power tools creating music. Kurtis's mind ventures through realms he's never before experienced. His heart races with excitement, and a new kind of energy. He clasps the empty cassette case even harder. His father smiles and looks straight ahead, paying attention to the road home "This is The Art of Noise", he states.
Kurtis Hairston was in no way afraid of the art of noise. In fact, he embraced it. He held it tightly, close to his heart and it became the basis behind his love of electronic music.
FACEBOOK: https://www.facebook.com/KRTSmusic?ref=ts&sk=app_178091127385
HOMEPAGE: http://www.krtsmusic.com/
SOUNDCLOUD: http://soundcloud.com/krts
BENDIK BAKSAAS BAND
Elektronisk musikk fremført både med laptop og organiske instrumenter. Først og fremst beats. Hiphop med vokal, disko i slow motion. Debut-EP med fullt band bestående av gitar, trommer, vokalister, vibrafon, sax, trombone og perk due JUNI 2012.
FACEBOOK: https://www.facebook.com/pages/Bendik-Baksaas-Band/176944859081803
MYSPACE: http://www.myspace.com/bendikbaksaas
DJ BAZ:
Glitch-Hop / Futuresoul / Wonky Beats / Wobbly Beats / Freeform Programming
KOÈJU PROJECT:
A club concept dedicated to live dance music. Host band, guest artists, new expressions, live beats, electronic & acoustic music for the dancefloor. Previous guest artists: Bilal (US) & band, Bilal & band, Stian Carstensen, Eivind Aarset, Norwegian Chamber Orchestra, Arve Henriksen, Karl Seglem, Steinar Ofsdal, Mathias Eick, Rajasthan Roots, Mathias Stubø, Thomas Strønen, Morten Qvenild, Quick Crew (Dance) and many others!
Like Koèju on facebook: https://www.facebook.com/pages/Koèju/138965576126707?ref=ts