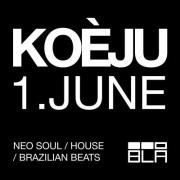 FREDAG 1.JUNI | KL.23:00 – 03:00 | 100,- | ID: 20 | KOÈJU.COM
Arrangert i samarbeid med Global Oslo Music. 25 piece-percussion orchestra(!) + electronic beats, hiphop/neosoul jam session & live electrofunk remixes! A night where musicians replaces the dj and plays hot, energetic club music 100% live. Come and enjoy the summer party and experience how its all being made using drum pads, synths, iPads, effects & acoustic instruments. And don't miss our special guests from Braziiil!!
CHRISTIAN WINTHER – GUITAR
HARALD LASSEN – SAXOPHONE
JONAS B. JOHNSEN – PERC
MOUCTAR DOUMBOUYA – DJEMBE
INA SAGSTUEN – VOCAL
BENDIK H. KJELDSBERG – EL.PERC
ARTHUR KAY PIENE – SYNTH
BENDIK BAKSAAS – ELECTRONICS
SIMON VALENTINE – ABLETON
ÅSMUND SKUTERUD – LIVE BEATS
DJ BAZ
OSLO SAMBASKOLE
(25 percussion orchestra)
+ guests:
Mestre Marquinho (Imperio Serrano)
Marquinho da Dona Geralda (Samba Eu)
Paulo Vitao (Samba Eu)
- – -
KOÈJU PROJECT:
A club concept dedicated to live dance music. Host band, guest artists, new expressions, live beats, electronic & acoustic music for the dancefloor. Previous guest artists: Bilal (US) & band, Bilal & band, Stian Carstensen, Eivind Aarset, Norwegian Chamber Orchestra, Arve Henriksen, Karl Seglem, Steinar Ofsdal, Mathias Eick, Rajasthan Roots, Mathias Stubø, Thomas Strønen, Morten Qvenild, Quick Crew (Dance) and many others!