Don't miss our resident DJ Nefertiti's last gig at Månen with the added bonus of special guests: Luis Landa-Schreitt – percussion, Sarah Camille – spoken word and DJ Ann Helen.



@ Månen / Youngstorget 3 / 9pm / free entrance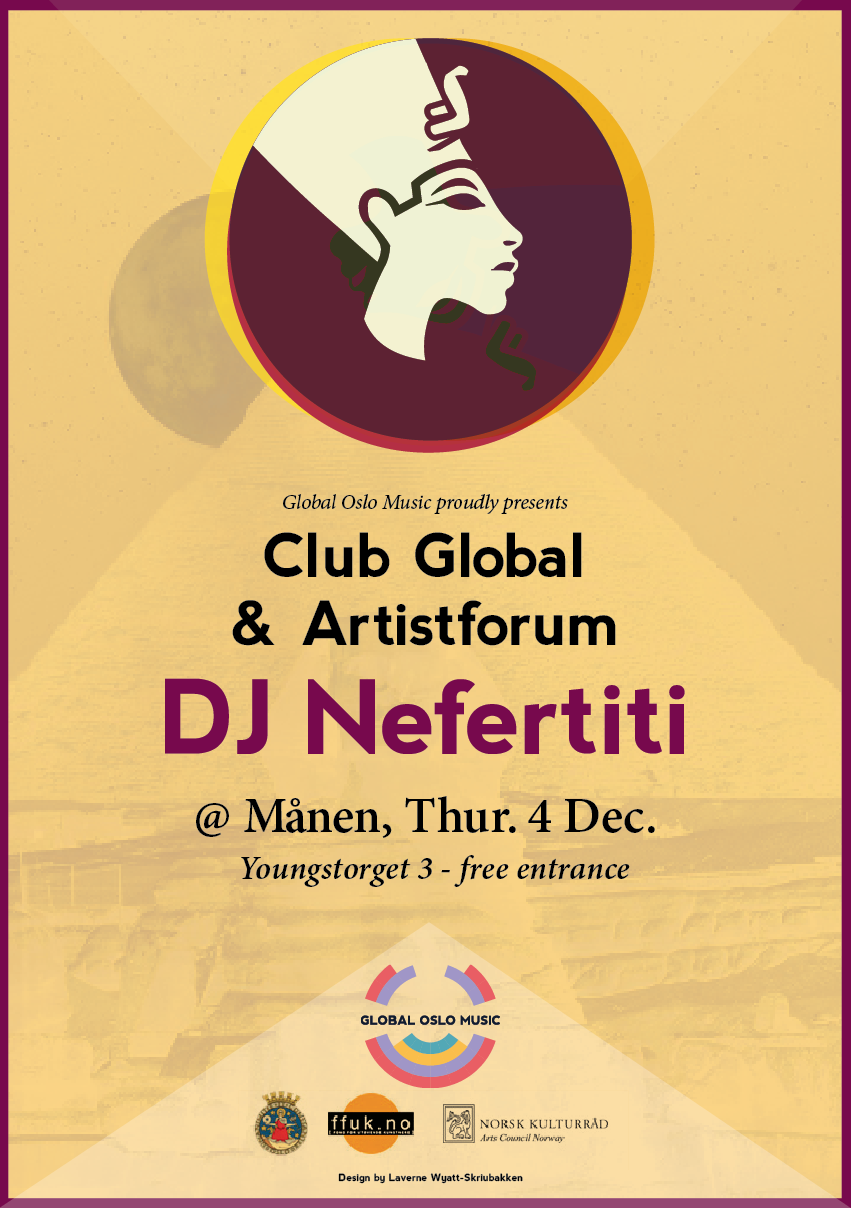 The name DJ Nefertiti is taken from the Egyptian queen Nefretiti and behind it hides a 35-year-old woman originally from Somalia. Her musical vision is to show off a little known style of music to clubbers: She mixes Arabic pop music and South African electro. Spinning with her is Dj Ann Helen who has just escaped Oslo to settle in the country but keeps returning to the capital to spin her music. Known for a wide range of musical genres such as techno, house, disco, rumba, calypso, Afro-pop and psychedelia. Anything danceable is in the repertoire!

Dj Nefertiti and Dj Ann Helen will be accompanied by musican Luis Landa-Schreitt on percussion and slam poet Sarah Camille, who also will be giving an introduction to their work as a part of the Artistforum's tête-à-tête.
Luis Landa-Schreitt is a well known drummer and percussionist who has performed extensively throughout Europe and staged the World Performing Arts Festival in Lahore, Pakistan. He plays a wide range of music and has collaborated with an array of artists such as, among others, Wolfgang Plagge, Stian Castersen, Per Arne Løvold, Reza Aghamir, Olga Konkova, Per Mathisen and Sher Mian Dad for live perfomances and recordings.
Sarah Camille has become one of the country's well know poet over the past years.
She has been performing in various events in Norway and abroad, and she has been working with different productions in theatre/performing arts. Her expression plays with poetry, music, stories and language. She has studied « Storytelling » at Høgskolen i Oslo, and is currently a student at Norsk Barnebokinstitutt. In 2011 she won NM i poetry slam.