(English text follows)
Velkommen til Global Oslo Musics årlige festival Global Nights! Vi har valgt Sentralen i Oslo sentrum for årets festival, som er den syvende i rekken. I løpet av Global Nights inviteres publikum til å oppleve fremragende skapende og utøvende kunstnere gjennom en serie konserter, clubkvelder, seminarer, masterklasse og urfremføring av bestillingsverk. For første gang har vi dessuten gleden av å presentere en festivalartist, som i løpet av dagene Global Nights varer, vil få bred eksponering.
Som konsertarrangør, kurator og kunstnernettverk har Global Oslo Music siden 2008 jobbet kontinuerlig med å profilere og bygge oppunder den internasjonale musikkscenen i landet, med utøvere fra hele verden, men som i hovedsak bor og arbeider i Norge. Global Nights på sin side har et helt spesielt oppdrag, nemlig å legge til rette for at kreative møter oppstår mellom artister som inviteres til landet, og artister med lokal forankring.
Det er vårt ønske at publikum gjennom Global Nights skal oppleve og oppdage flott kunst og ta del i aktiviteter som gir innsikt i spennende tematikk.
For festivalkatalog: mail oss på post@globaloslomusic.com
Billetter og festivalpass kan kjøpes i døren eller forhåndsbestilles på TicketCo
 VI SEES PÅ SENTRALEN!
THE GLOBAL OSLO MUSIC TEAM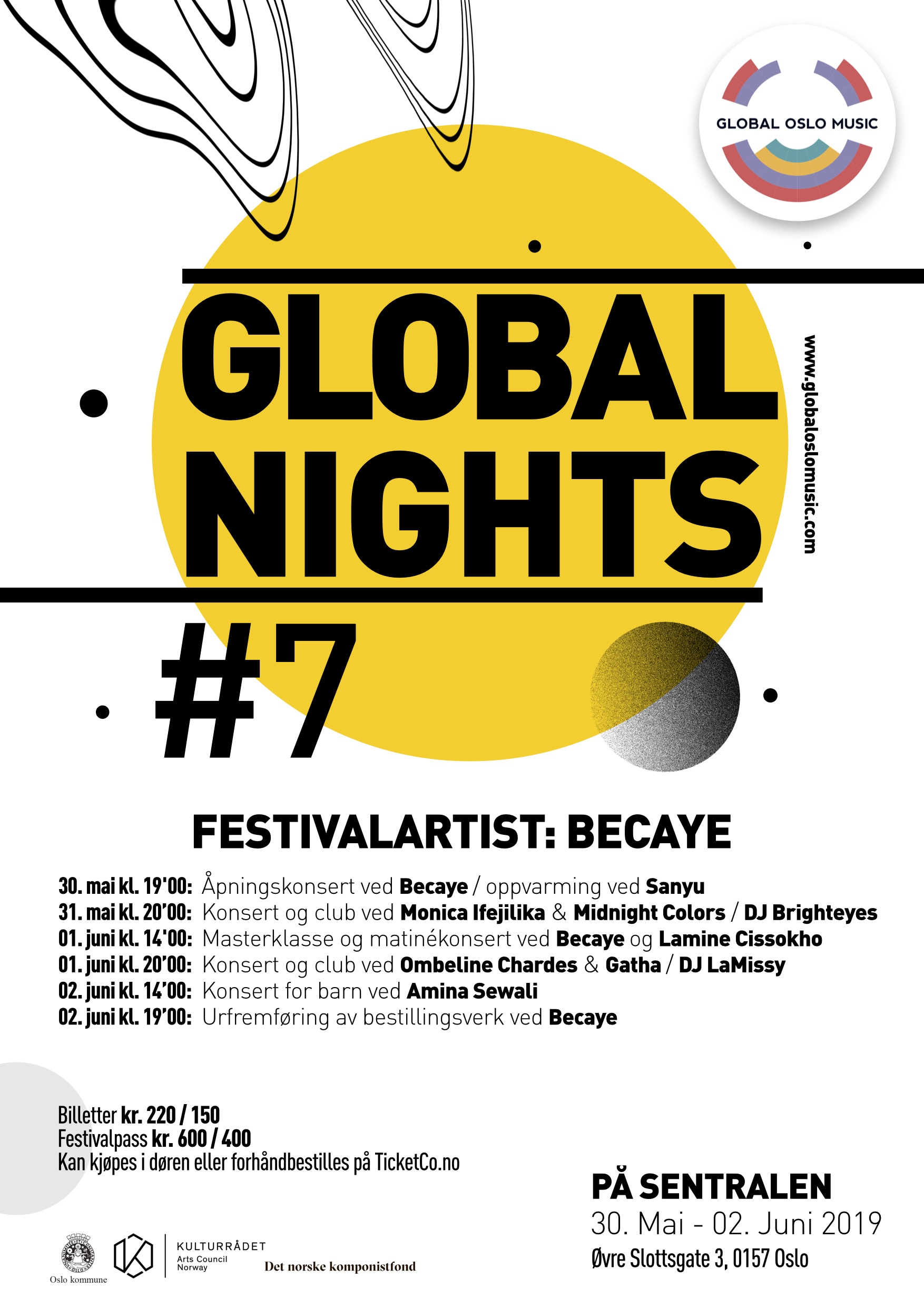 Welcome to Global Oslo Music's annual festival – Global Nights! We have chosen Sentralen in the center of Oslo for this year's festival – which is in its seventh year. Through the course of Global Nights, our audience is invited to experience outstanding creative and performing artists through a series of concerts, club nights, seminars, masterclasses, and performances of commissioned works.
For the first time, we have the pleasure of presenting a festival artist, whose presence during Global Nights will provide them with a great deal of musical exposure.
As a concert organiser, curator and artistic network, Global Oslo Music has been working continuously to promote and build the international music scene in the country, with practitioners from all over the world (but who mainly live and work in Norway) since 2008. Global Nights, in turn, has a very special task – to facilitate creative meetings between artists invited to the country, and artists with local roots.
It is our wish that, through Global Nights, our audience experiences and discovers great art and that it participates in activities that provide insight into exciting and inspirational topics.
For festival catalogue mail us at post@globaloslomusic.com
Tickets and festival pass available at the door or online at TicketCo
WE LOOK FORWARD TO SEEING YOU AT SENTRALEN!
THE GLOBAL OSLO MUSIC TEAM