NY LÅT FRA KRISTIN ASBJØRNSEN
"You Hold Me While Leaving Me" fra Kristin Asbjørnsens kommende album "Traces Of You" lanseres i dag!
Musikken har et sildrende lydbilde, kraftfull vokal, poetisk tekst og fengende melodier.
Tekst og musikk av Kristin Asbjørnsen
Kristin Asbjørnsen – vokal
Olav Torget – gitarer, perkusjon
Suntou Susso – kora, vokal
Innspilt og mikset av Ulf Holand i HolandSound.no
Produsert av Kristin Asbjørnsen med Torget&Holand
"Traces Of You" er laget i nært samarbeid med hennes mangeårige gitarist Olav Torget og lydmaestro Ulf Holand, og introduserer et nytt musikalsk møte med den gambiske grioten Suntou Susso. Med sterk meloditeft og poetisk lyrikk veves gitarer, vestafrikansk kora og stemmer i et særdeles vakkert, groovy og meditativt lydlandskap. Musikken bærer avtrykk fra vestafrikansk musikk, vuggesanger og kontemplativ, nordisk jazz. Sangene er som váre fornemmelser om livsavtrykk, nærvær og kjærlighetens omdannelser.
"Traces Of You" tar utgangspunkt i sanger fra Kristins bestillingsverk for Global Oslo Music i 2016, albumet utgis 9. mars på Global Sonics.
Med "Traces Of You" opprettholdes Kristins posisjon som en av de mest originale og kritikerroste stemmene i norsk musikk gjennom de siste tyve årene. Musikken har allerede høstet overveldende respons og åpner et nytt terreng i hennes mangefasetterte musikkunivers.
www.kristinasbjornsen.comHØR MUSIKKEN HER: 
You Hold Me While Leaving Me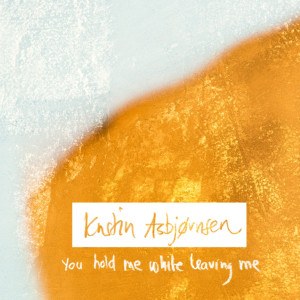 KRISTIN ASBJØRNSEN HAS RELEASED A BRAND NEW SINGLE TODAY!
"You Hold Me While Leaving Me" is the new single from Kristin Asbjørnsen's forthcoming album "Traces Of You" – to be released on March 9.
The song has a haunting sound, with strong vocals, poetic lyrics and unforgettable melodies.
Music and lyrics by Kristin Asbjørnsen
Musicians:
Kristin Asbjørnsen – vocals
Olav Toret – guitar, percussion
Suntou Susso – kora, vocals
Anders Engen – percussion
Monica Ifejilika – vocals
Recorded and mixed by Ulf Holand of HolandSound.no
Produced by Kristin Asbjørnsen with Torget&Holand
On "Traces Of You" Kristin collaborates closely with her long-term guitarist Olav Torget, a musician who has been very important in enriching her musical landscape. The album also introduces a new musical encounter with the Gambian griot Suntou Susso.
With assured melodic flair and poetic words, guitars, West African kora, konting and vocals are woven creatively into a gorgeous, groovy and meditative vibration. The music carries traces of West African music, lullabyes and contemplative, Nordic jazz. The songs are like delicate sensations: Of life's imprints, presence and love's transformations.
"Traces Of You" has its origin in songs from Kristin's commissioned work for Global Oslo Music in 2016. Her new music has already received an overwhelming response, and has opened new terrain in her multifaceted musical universe.
"Traces Of You" is the first release from the new established publishing service Global Sonics, specializing in new creative collaborations between artists from all over the world.