Vi nærmer oss datoen for nytt albumslipp via vår label Global Sonics. (English and French text follows)
Når Gnawa Youmala nå debuterer med albumet Dounya, er det verdt å spisse ørene. På dette finnes noen av de fremste utøverne man kan oppleve innen gnawamusikk, som her presenterer både tradisjonelle stykker og musikk de har skrevet selv. Det er virtuost, nyskapende og vakkert!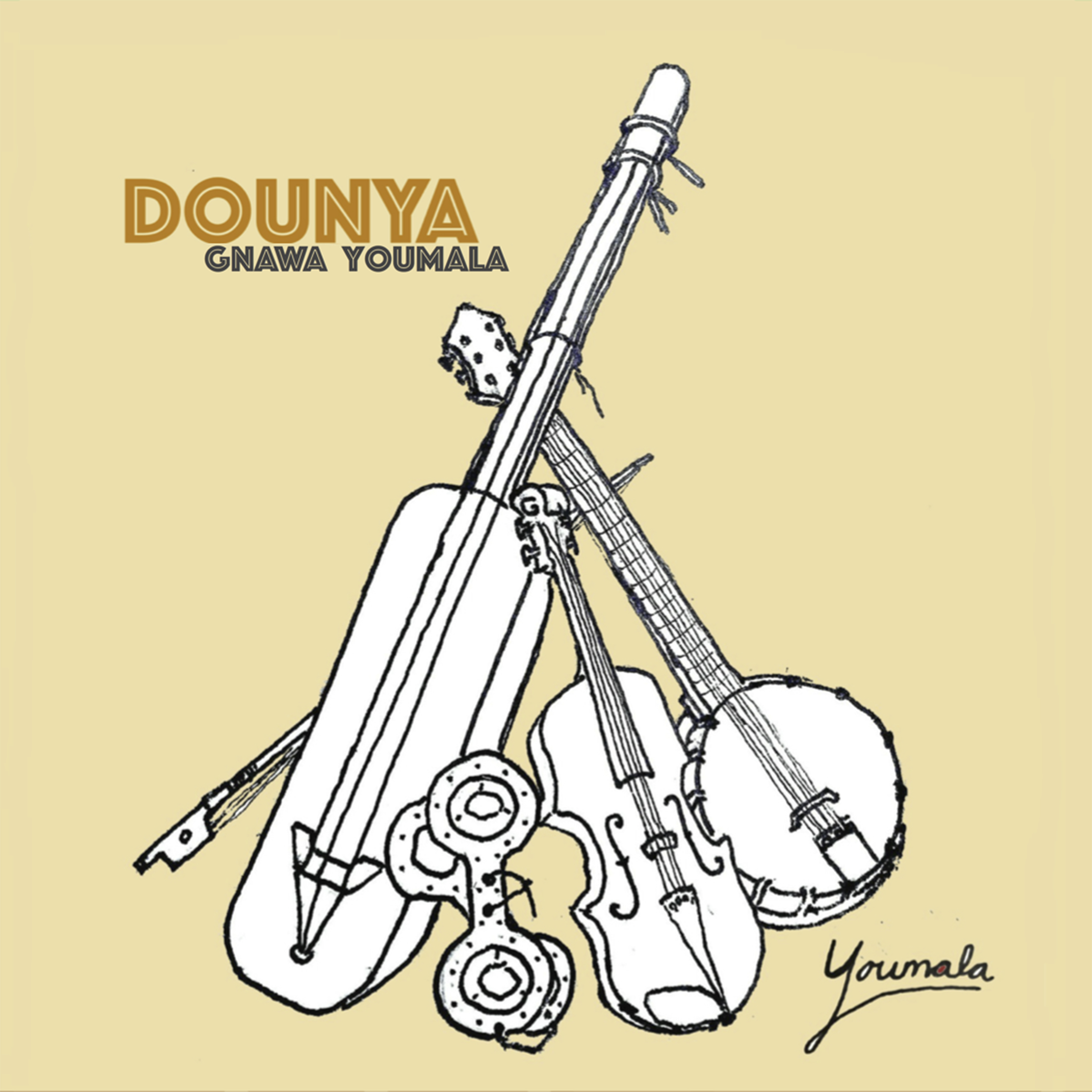 Paris-baserte Gnawa Youmala ble grunnlagt av Jaouad El Garouge fra Global Gnawa og Redouane Raifak, tidligere musiker i den legendariske marokkanske gruppen Nass El Ghiwane. Bandet spiller musikk med utgangspunkt i tradisjonell gnawamusikk, med røtter i Sub-Sahara, som man finner i særlig Marokko, men også i andre deler av Nord-Afrika. Musikken har også elementer fra ghiwane, andalus og berbisk musikk. Her kombineres de tradisjonelle instrumentene guembri og qaraqeb med fiolin og banjo, som samlet skaper et nytt og originalt lydunivers.
En kunst, en kultur, men også en livsstil; Gnawa Youmala inviterer til rytmisk transe, sanger fra sine forfedre og moderne groove, der poesi og rytmer nedstammer fra vakker og vital rituell musikk.
(E) Paris-based Gnawa Youmala's debut album Dounya is just around the corner. Don't miss out on this opportunity to explore some of the most outstanding modern Gnawa musicians, presenting both traditional pieces and new compositions by some of the band members. The music is an unique blend of traditional Gnawa music, deeply rooted in traditions from Sub-Sahara, frequent in Morocco and other North-African countries, and Ghiwane, Andalusian and Berber music, performed on guembri, qaraqeb, violin, banjo and vocals.
An art, a culture and a lifestyle; rhythms inducing trance-states, old traditional songs and modern grooves – it's purely poetic and vital, drawn on ancient rituals.
(F)
Le premier album de Gnawa Youmala, Dounya, approche à grands pas. Ne manquez pas cette occasion de découvrir l'un des groupes les plus remarquables de musiciens Gnawa modernes, présentant à la fois des pièces traditionnelles et de nouvelles compositions de certains membres du groupe. La musique est un mélange unique de musique traditionnelle gnawa, profondément enracinée dans les traditions subsahariennes, populaire au Maroc et dans d'autres pays nord-africains, et de musique ghiwane, andalouse et berbère, jouée sur guembri, qaraqeb, violon, banjo et chant.
Un art, une culture et un style de vie; des rythmes menant à des états de transe, de vieilles chansons traditionnelles et des grooves modernes – c'est poétique et vivace, issus de rituels anciens.