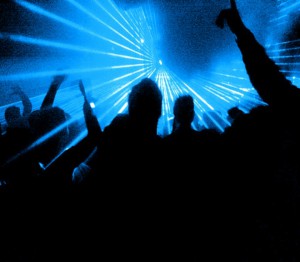 Blå | Klubb Koèju | 23:00-03:00 | 100,- | ID: 20
Arrangert i samarbeid med organisasjonen GLOBAL OSLO MUSIC.
Nytt år og tid for å rendyrke live-klubb-konseptet! Koèju gjengen driver med oppgraderinger om dagen og fokuset er live elektronikk, mao fornyet sound for de danseglade.
Per Oddvar Johansen – electronic drums & fx
Øystein Skaar – rhodes & synth
Harald Lassen – saxophone
HeeMugen – vocal
Katharina Lattke – electronic drumpad
Simon Valentine – ipad & synth
Åsmund Skuterud – maschine & imaschine
Cuan Lategan – visuals
+ guestacts (TBA)
DJ Baz
Åsmund Skuterud har samlet et stjernelag av musikere for å lage live, pulserende klubbmusikk og dette gjøres ved bruk av diverse trommepads, synther, effektbokser, iPhone/iPad etc. Han har også klart å lure jazztrommis Per Oddvar Johansen til å konvertere til el-trommer for å sikre at dansegulvet aldri stopper opp, samt fått med up & coming pianist Øystein Skaar på synther, så det er duket for en eksepsjonell kveld enten man er glad i å danse, liker live show eller er interessert i teknologiske dippedutter. Mange nye klubblåter er også kommet til verden siden siste Koèjukveld, og selv om man aldri vet akkurat hvordan låtene ender opp når man driver med fri-impro-klubbing, så ligger det ann til å dreie seg om: house / minimal / soul / jazzfunk / afrobeatz / 120bpm+

KOÈJU PROJECT
A night dedicated to live club music. Host band, guest artists, new expressions, live beats, electronic & acoustic music for the dancefloor. Previous guest artists includes musicians such as Bilal (US) & band, Stian Carstensen, Eivind Aarset, Mathias Eick & Norwegian Chamber Orchestra.