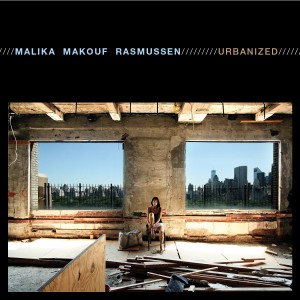 To år på byjakt, nå er albumet her: Urbanized er Malika Makouf Rasmussens tredje soloalbum. Musikken speiler to års kontinuerlige reiser til byer på forskjellige kontinenter; å gå tett på ulike miljøer der de befinner seg har gitt tilgang til en innsikt i menneskelig kreativitet slik den kan utfolde seg i all sin fascinerende uendelighet – enten du er i Havanna eller Paris, Alger eller Los Angeles.
Two years of urban travel, now the album is here: Urbanized is Malika Makouf Rasmussen's third solo-album. The music mirrors two years continuous travel to cities in various continents. Getting close to different environments on their home ground has given access and insight into human creativity as it unfolds in all its fascinating continuity – wether it is in Havanna or Paris, Algiers or Los Angeles.
Releasekonsert på Dattera til Hagen 9. desember, i regi av Global Oslo Music.
Dørene åpner 20'30 – konsert 22'00. CC 80.-
Grønlandsleiret 10.
Line up:
Malika Makouf Rasmussen – bass, perkusjon, vokal
Hannah Wozene Kvam – vokal
Fethawit Hakin – plater, vokal
Rafael Soriano – vokal
Tommy Berre – gitar
Ketil Kielland Lund – tangenter
Øystein Bergsvik – trommer
Daniel Glaister – lyd
Global DJ Dominic Reuben
Urbanized publiseres av New Music og distribueres av EMI Music Norway – fra 6. desember.
www. malikamakoufrasmussen.com
www.globaloslomusic.com
les anmeldelse i aftenposten her:
http://oslopuls.aftenposten.no/musikk/article482634.ece