Vi er stolte av å invitere til den femte utgaven av Global Nights, vårt årlige sommerevent som byr på fremragende artister gjennom en serie konserter, workshops og clubkvelder på noen av byens mest pulserende scener. Velkommen!
(E) We're delighted to announce the fifth edition of Global Nights, our annual summer event hosting concerts, workshops and club nights at vibrant venues across town. Welcome!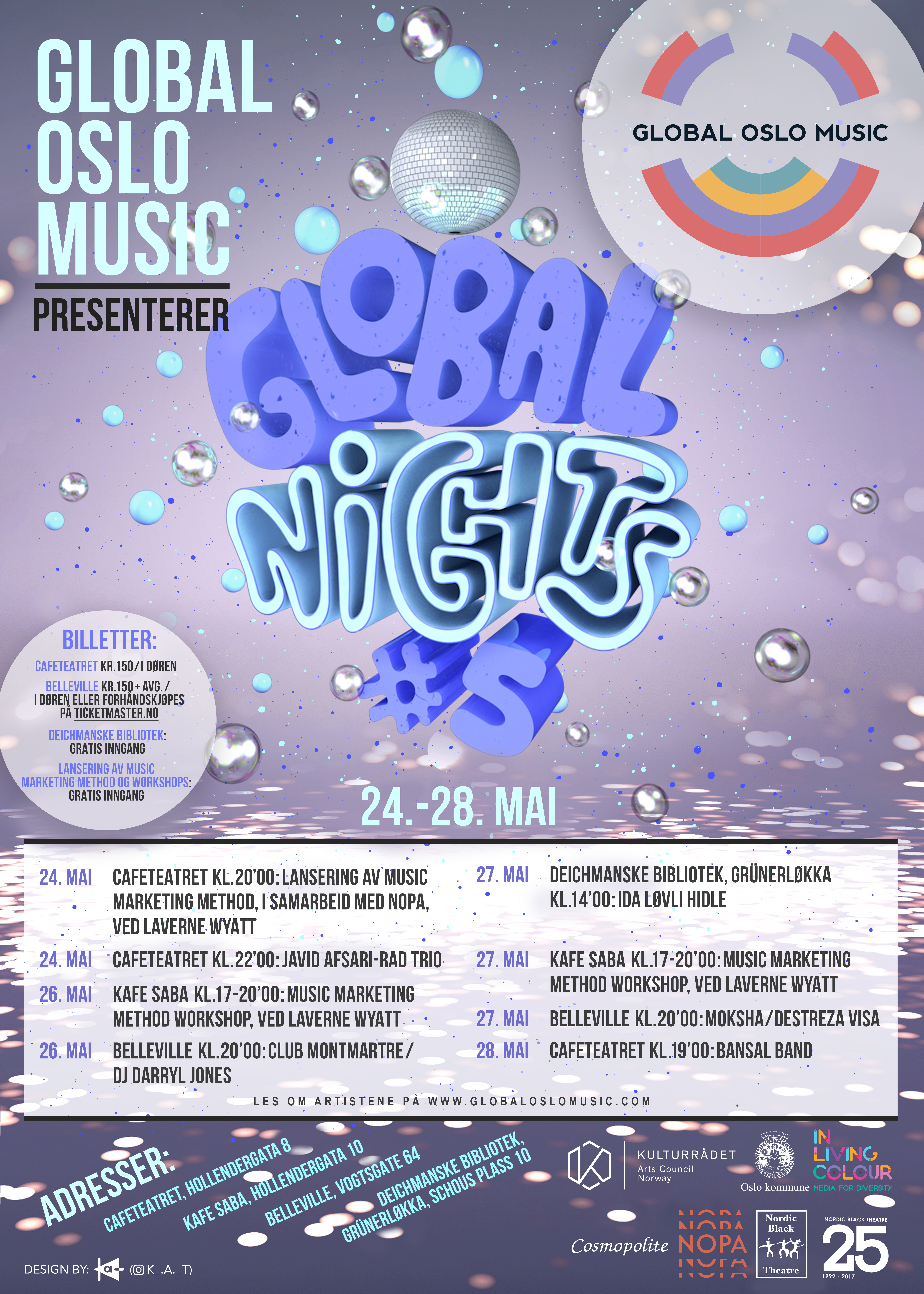 24. mai – Cafeteatret kl. 20'00 – Lansering av MUSIC MARKETING METHOD
Er du en artist med internasjonal bakgrunn, bosatt i Norge, med behov for råd om hvordan man lager en god artistprofil, markedsfører musikk på en effektiv måte, samt en orientering i det norske musikklandskapet? Da inviterer vi deg til introduksjonen av Music Marketing Method – et online magasin som gir deg hjelpen du trenger. Den er utformet av digital designer Laverne Wyatt fra In Living Colour, som er spesialisert i markedsføring og webløsninger for artister. Hun gir gode råd og har dessuten snakket med internasjonale artister som deler av sine erfaringer fra møtet med det norske musikklandskapet, som vi vil bli introdusert for.
Music Marketing Method er et samarbeidsprosjekt mellom Global Oslo Music, In Living Colour og Norsk forening for komponister og tekstforfattere – nopa.no. Fri inngang.
(E) Are you an artist with an international background, living in Norway, with a need for advice and tips on how to:
Create a good artist profile 
Market yourself in an effective way
And orient yourself in the Norwegian musical landscape?
Then we invite you to the introduction of Music Marketing Method – an online magazine that gives you the help you need. It is developed by Laverne Wyatt from In Living Colour Media, a specialist in marketing and web design learning for artists. She offers good advice and will also present views from international artists who share their experiences navigating the Norwegian musical landscape. 
Music Marketing Method is developed in collaboration with In Living Colour and Norsk forening for komponister og tekstforfattere – nopa.no. Free entrance – Welcome!
With financial support from Arts Council Norway and NOPA.
See under for artist information in English
24. mai – Cafeteatret kl. 22'00 - JAVID AFSARI-RAD TRIO
Trioen er et mindre format av Rumi Ensemble som er ledet av Javid Afsari-Rad. Han komponerer og arrangerer musikken, dypt inspirert av den persiske poeten Jalal ad-Din Muhammad Rumi, som levde på 1200-tallet i Iran og har den dag i dag en enorm betydning for persisk kultur. Billetter kr. 150 / kjøpes i døren.
26. mai – Kafe Saba kl. 17.-20'00 – MUSIC MARKETING METHOD WORKSHOP
Hva bør man gjøre for å bli lagt merke til som artist? Har du en tydelig artistprofil? Hvordan bruker du internett til å markedsføre musikken din? Hva slags publikum har du, hvem vil du nå? Har du god nok kjennskap til det norske musikklandskapet? Dette er spørsmål Laverne Wyatt vil bidra til å løse med gode og enkle praktiske råd. Fri inngang.
26. mai – Belleville kl. 20'00 – CLUB MONTMARTRE / DJ DARRYL JONES
Når Club Montmartre inntar Belleville er det naturligvis med et frisk pust fra Paris og bydelen som er kjent for sin gode blanding av høy urban puls og internasjonal atmosfære. Det er med dette som bakgrunn Club Montmartre skapes: en dynamisk strøm av impulser fra hele verden, utøvd på vokal, instrumenter og elektronikk.
DJ Darryl Jones overtar utover kvelden med sin soulfylte musikk. Billetter kr. 150 + avg. / i døren eller på ticketmaster.no 
27. mai – Deichmanske bibliotek, Grünerløkka kl. 14'00 – IDA LØVLI HIDLE
Vi har gleden av å presentere en av landets fremste utøvere på akkordeon, som kommer til biblioteket på Grünerløkka under Global Nights med et repertoar av distinkt og virtuos samtidsmusikk. Fri inngang.
27. mai – Kafe Saba kl. 17.-20'00 – MUSIC MARKETING METHOD WORKSHOP
Gjør deg synlig som artist – bygg en solid artistprofil! Vi fortsetter arbeidet med å realisere og profesjonalisere virksomheten som artist. Spesialist i feltet, Laverne Wyatt, vil gi innføring i de beste løsningene for å bygge en solid og langsiktig karriere. Fri inngang.
26. mai – Belleville kl. 20'00 – MOKSHA / DESTREZA VISA
Det er med en distinkt og unik blanding av jazz og indisk Raga bandet Moksha inntar Belleville under Global Nights. Gjør dere klare for stemningsfull improvisasjon og komplekse rytmer på gitar, vokal og perkusjon. De etterfølges av Destreza Visa, artist og Dj fra Mogadishu, no bosatt i Oslo. Dahir har det siste året funnet seg en egen plass i Oslos klubbverden med sin særegne mix av elektronisk, rytmisk afrikansk musikk, house og techno – vi møtes på dansegulvet!
Billetter: 150 + avg. / i døren eller forhåndkjøpes på ticketmaster.no – Velkommen!
28. mai – Cafeteatret kl. 19'00 – BANSAL BAND
Vi runder av årets Global Nights med nykomponert musikk av Harpreet Bansal, basert på den nord-indiske raga-tradisjonen, utøvd på santur, harmonium/piano,  kontrabass,
tabla/perkusjon og fiolin. Billetter kr. 150 + avg. / kjøpes i døren.
Adresser:
Cafeteatret, Hollendergata 8
Kafe Saba, Hollendergata 10
Belleville, Vogtsgate 64
Deichmanske bibliotek, Grünerløkka, Schous plass 10
OM ARTISTENE / ARTISTS INFORMATION
Laverne Wyatt
Blant det som utmerker seg i arbeidet til Laverne Wyatt, er det fokuset på det moderne Norge – et samfunn som utspiller seg i et mangfold av kulturer og uttrykk. Gjennom sitt eget firma In Living Colour, bidrar hun til at mennesker fra alle kulturer skal bli mer synlige i media. Sentralt i dette arbeidet er undervisning i digital design til mennesker med liten erfaring på område, slik at de skal kunne tilegne seg gode verktøy for profesjonell markedsføring av sine arbeider, uten store kostnader. Laverne er selv fra Sør-Afrika, men har de siste årene bodd i Malta og Norge. I alle tre landene har hun jobbet med grafisk design, motedesign, undervist, organisert eventer, jobbet med markedsføring, og mer generelt: bidratt i oppbyggingen av internasjonale foretak, små forretninger og ideelle kultur- og musikkorganisasjoner.
(E) If there is one thing that influences Laverne Wyatt's work most, it is the modern Norway – a society unfolding through a diversity of cultures and perspectives. Through her company In Living Colour – Media for Diversity, she focuses on increasing the visibility of different cultures in social media. Central to this work is her workshops in digital design aimed at people of diverse backgrounds with little experience in this field. The aim being that they are empowered with good tools for professional marketing of their work, on a limited budget. Laverne is herself from South Africa, but has these recent years lived in Malta and Norway. In all three countries she has worked with graphic design, fashion design, teaching, organising events, marketing, and more generally: being of service with branding for international brands, micro enterprises and local cultural and musical organisations.
Laverne Wyatt

Javid Afsari-Rad Trio
Javid Afsari Rad (f. 1965) spiller en rekke instrumenter, men har det persiske instrumentet santur som hovedinstrument. Han kommer opprinnelig fra Iran hvor han studerte klassisk persisk musikk, men har bodd i Norge siden 1986. Javid er også bandleder og komponerer musikk for bl.a. ensemblene Combonations, Javid Afsari Rad Ensemble og Norwegian World Orchestra. Musikken han komponerer er sterkt inspirert av den persiske tradisjonen han studerte i Iran, men også av vestlig klassisk musikk som han har studert i Norge. Han har turnert over store deler av verden og spilt på festivaler i Europa, Asia, Afrika og Sør-Amerika og hadde bestillingsverk for Kringkastingsorkesteret i 2006. I 2008 ble han tildelt tittelen "Årets artist" av Oslo kommune.
Harpreet Bansal (f. 1980) – fiolin, vokste opp i Norge, men fikk undervisning i ragatradisjonen av sin far, guru Harbhajan Singh Bansal. Hun har siden også studert vestlig musikk på Norges Musikkhøgskole, og finner sitt uttrykk i skjæringspunktet mellom det vestlige og det østlige. Hun har studert med sitaristen Ustad Ashraf Sharif Khan Poonchwalas og fiolinsten Dr. L. Subramaniam. I 2008 startet Harpreet trioen Bansal Trio, som ga ut sitt første album på Jazzland Recordings i 2015. I 2013 startet hun kvintetten Bansal Band, som er en videreutvikling av trioen.
Tove Margarethe Erikstad (f. 1983) er en norsk freelance-cellist med base i Oslo. Hun har studert med Truls Mørk, og ble ferdig med studiene ved Norges Musikkhøgskole i
2009. Tove samarbeider med flere samtids-ensembler og orkestre som f.eks. Kringkastingsorkesteret, Bergen Filharmoniske Orkester og Det Norske Operaorkestret. Hun deltar også i flere kammerorkestre og teatre/musikaler.
(E) Javid Afsari-Rad Trio is led by Javid Afsari Rad, who, besides composing and arranging the music, plays the Persian santur. The trio is a smaller version of Rumi Ensemble. Javid is very much influenced by the 13th-century Persian poet, Jalal ad-Din Muhammad Rumi, who lived in Iran and who continues to exert an enormous influence on Persian culture to this very day. The rhythmic aspect is a central element in Rumi's poems, and Javid incorporates this rhythmic energy and vitality into his music. Contrast is a vital ingredient of musical expression in this trio, as it moves from passages quiet and meditative to segments brimming with energy and intensity. Javid Afsari Rad Trio features leading musicians within the Persian, Indian and Western classical music traditions.
Javid Afsari Rad (b. 1965), plays a number of instruments, the Persian santur being his main instrument. He has lived in Norway since 1986 and comes originally from Iran, where he studied classical Persian music. Javid is also a composer and is artistic director of the ensembles ComboNations, Rumi Ensemble and Norwegian World Orchestra. The music he composes is strongly inspired by the Persian tradition he studied in Iran, but also by his study of Western classical music in Norway. He has toured throughout much of the world and has composed a number of commissioned works, including one for the Norwegian Radio Orchestra in 2006. In 2008 Javid was named the Municipality of Oslo "Artist of the Year". One of his main projects is to create new and exciting musical expression through the fusion of diverse musical traditions. His groups feature musicians from, among other countries, Iran, India, Morocco, Ivory Coast and Senegal.
Harpreet Bansal (b. 1980) was trained in Indian classical music from early childhood by her father, Harbhajan S. Bansal. She also trained in Western classical music, and entered the Norwegian Academy of Music (NAM) in 1999. After graduating in 2003, Harpreet became a student of the prominent sitar player Ustad Ashraf Sharif Khan Poonchwalas and also took numerous lessons with Dr. L. Subramaniam, today ś premier Indian violinist. In 2011 she finished her Master's Degree in Performance and Research at NAM. In 2008, Harpreet formed the Bansal Trio, who has since toured extensively for Concerts Norway under the name Raga Bansal. In 2013, the five-piece Bansal band was formed based on the trio. The Bansal Trio released their first CD, Chandra, on Jazzland Records in 2015.
Tove Margrethe Erikstad (b. 1983) is a Norwegian freelance cellist, based in Oslo. She has studied under supervision of Prof. Truls Mørk, and graduated from Norwegian Music Academy in 2009. Tove collaborates with several contemporary ensembles as well as known orchestras such as; the Norwegian Radio Orchestra, Bergen Philharmonic Orchestra and the Norwegian Opera Orchestra. She is also participating in different chamber orchestras, chamber projects and theaters/musicals.
Javid Afsari-Rad Trio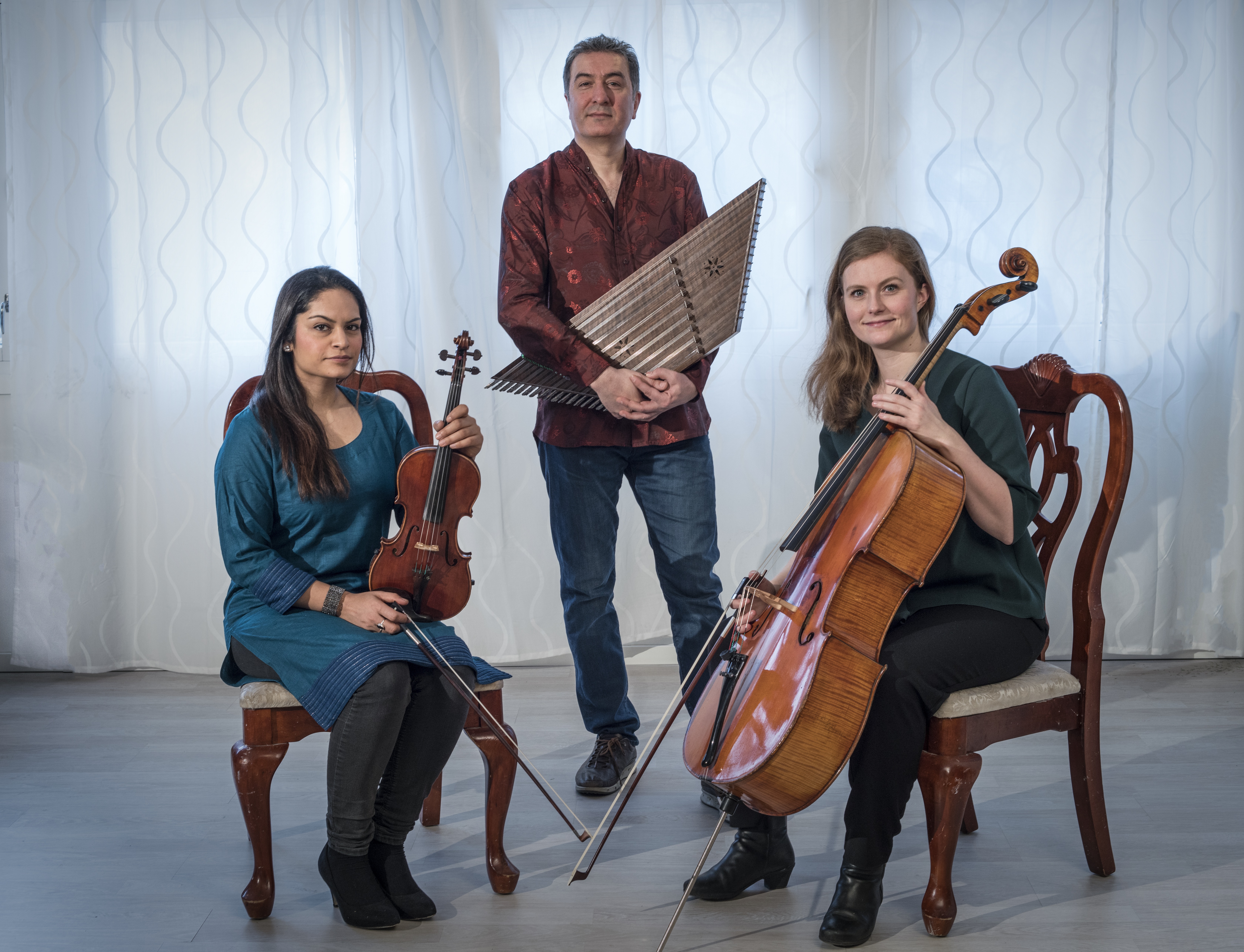 Club Montmartre / DJ Darryl Jones
Club Montmartre er Malika Makouf Rasmussens nye clubkonsept, som debuterte under årets Vossa Jazz, denne gang med utgangspunkt i bydelen Montmartre i Paris hvor hun selv bor og som opp gjennom historien har vært tilholdssted for alle type mennesker fra alle verdens hjørner, ikke minst kunstnere som utfolder seg i et miljø av skapende krefter. Montmartre har gjennom sin utforming kulminert i en kombinasjon av kritisk tenkning og kunstnerisk utfoldelse; i en bydel med en god blanding av høy urban puls og internasjonal atmosfære, hvor mennesker lett går i samtale og der ikke minst aksen Vesten-Afrika er godt representert. Det er med dette som bakgrunn Club Montmartre skapes: en dynamisk strøm av impulser fra hele verden, tolket gjennom et musikalsk univers der både tung rytmikk og minimalistiske bevegelser sirkler inn kontraster og sammensmeltninger av instrumenter, elektronikk og vokal. Foruten selv å spille gimbre, bass og perkusjon, har Malika med seg et stjernelag av utøvere som hver og enkelt har et særegent sound med tråder til all verdens kulturer:
Kristin Asbjørnsen – vokal
Wei Ting Zeng – cello, elektronikk
Oddrun Lilja Jonsdottir – gitar
Dahir Eebo Doni – beats
Luis Landa-Schreitt – trommer, perkusjon
DJ Darryl Jones
(E) Club Montmartre is Malika Makouf Rasmussen's new club concept, which debutet at Vossa Jazz in April. This project is inspired by and based on the striking area Montmartre, in Paris, where she resides. As a mingling spot for people from all corners of the world, Montmartre has historically been a melting pot and canvas for a community with a great appetite for art. This cultural surrounding is the origin in which Club Montmartre was inspired. It has now become the focus point for a dynamic stream of influences, from around the globe, through different instruments, electronics and vocals. Rasmussen's background includes working as a musician, composer and an organizer. Her music tells of a journey through Africa via the Middle East and to the Western world by breaking traditional rules and bringing you innovative music. What all of her projects have in common is the exploration of cultures and how they interact. Besides playing the gimbre, bass and percussion, Malika brings with her performers who each one have a unique and distinctive sound with connections to global cultures.

Kristin Asbjørnsen – vocal
Wei Ting Zeng – cello, electronics
Oddrun Lilja Jonsdottir – guitar
Dahir Eebo Doni – beats
Luis Landa-Schreitt – drums, percussion
DJ Darryl Jones



Ida Løvli Hidle er en premiert akkordeonist med blant annet 1. pris fra "Internasjonal Competition for Accordion Soloists" i Belgia, 2012. Hun har gjort solokonserter over hele verden, fra Kina til Belgia, Frankrike, Tyskland, Russland og Canada. Hun har samarbeidet med komponister, deriblant Sofia Gubaidulina i forbindelse med nyutgivelsen av hennes soloverk "Et Expecto".
Erfaren innen en rekke sjangre og konstellasjoner, blant annet fra jazzorkesteret "Skadedyr" og som kapellmester på turné med Malmø Opera. I februar 2016 avholdt hun sin solistdebut ved Det Kongelige Danske Musikkonservatorium, til strålende kritikker og som ble kringkastet i dansk radios P2. Hun har mottatt en rekke priser og stipender, deriblant Ticon Musikkstipend og Kulturrådets arbeidsstipend for unge musikere. Hun brenner for å introdusere samtidsmusikk til et større publikum og legger derfor stor vekt på å presentere de ulike stykkene på en god måte, slik at alle kan få assosiasjoner til hva musikken handler om. Ofte bruker Ida lesing av tekster og skuespill som et virkemiddel under sine konserter. I tillegg er det viktig for henne å presentere god samtidsmusikk med høy musikalsk og teknisk kvalitet. 
(E) Ida Løvli Hidle is a premiered accordionist. Amongst her many prizes is the 1st prize from the "International Competition for Accordion Soloists" in Belgium, 2012. She has given solo concerts all over the world, from China to Canada, France, Russia and Germany, and collaborated with composers such as Sofia Gubaidulina on the new edition of her solo work "Et Expecto". Her almost unlimited repertoire spans from contemporary to folk music, tango, jazz and classical music. She is a founding member of the jazz orchestra "Skadedyr" and has worked as Kapellmeister on tour with Malmø Opera. In February 2016 she graduated with Advanced Postgraduate Diploma from The Royal Danish Academy of Music with great reviews. The concert was broadcasted at the Danish national radio. Ida has received several awards such as Ticon Musikkstipend and Arts Council Norway's Government Grants for Young Artists.
She has a strong passion for introducing contemporary music to a larger audience and is eager to present the music in a way so that everyone may relate to its sounds and ideas. Therefore she sometimes read poems or act as a part of her musical performances. It is also very important for her to present high quality contemporary music with musical and technical professionalism. 
Ida Løvli Hidle / Foto: Tone Ek Andreassen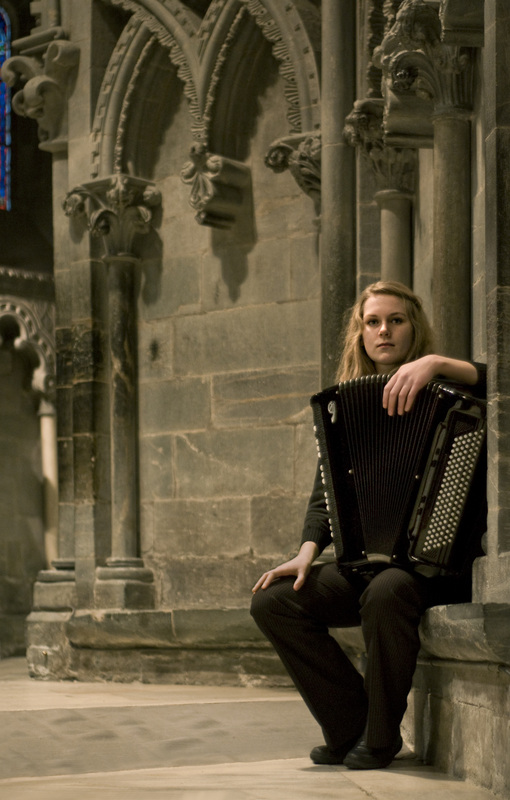 Moksha
Moksha består av gitarist Oddrun Lilja Jonsdottir, Sanskriti Shrestha på perkusjon/vokal og Tore Flatjord på perkusjon. Sammen skaper de en distinkt og unik blanding av jazz og indisk Raga med stemningsfull improvisasjon og komplekse rytmer.- "Combining Nordic jazz and Indian Raga the music can veer off into intense realms of expression" -Downbeat Magazine January 2017.
Jonsdottirs gitar svever lekent gjennom låtene, enten hun velger akustisk eller elektrisk. Perkusjonen danner lag på lag med lyd som løfter musikken opp og fram, eller lister seg under og endrer dimensjoner og landskap. Shresthas vokal spenner fra melodiøs sang til vokalperkusjon og tilfører uventede elementer til komposisjonene.
Jonsdottir og Shrestha har allerede fremragende referanser, og disse blir forsterket ved at de er trukket inn i Bugge Wesseltofts 2016-utgave av New Conception of Jazz. Flatjord har jobbet med mange ulike prosjekter, blant disse Baker Hansen, The Switch, Dr Kay & His Interstellar Tone Scientists og Mongrel.
Moksha har de siste årene turnert i Norge, Europa og i Nepal og har samarbeidet med artister som Ashraf Sharif Khan (Pakistan), Rubin Shrestha (Nepal) og Bugge Wesseltoft (Norge). I april 2016 ga Moksha ut sin kritikerroste debutplate The beauty of an Arbitrary Moment på plateselskapet Jazzland.

(E) «Combining Nordic jazz and Indian Raga, Moksha's music can veer off into intense realms of expression»  -John Ephland, Downbeat Magazine January 2017
Indian raga, Nordic jazz, virtuosity and spontaneity. Moksha draws inspiration from traditional music from different parts of the world, but also from the moment. A unique concert experience characterized by complex rhythms, catchy melodies and contemplation. The band was established in 2012, and has over the last years toured in Norway, Europe and Nepal and collaborated with sitar master Ustad Ashraf Sharif Khan based in Hamburg, pianist Bugge Wesseltoft based in Oslo, and flautist Rubin Shrestha based in Nepal, among others. Mokshas debut album "The Beauty og an Arbitrary Moment" was released on Bugge Wesseltoft's record company Jazzland Records in April 2016.
Moksha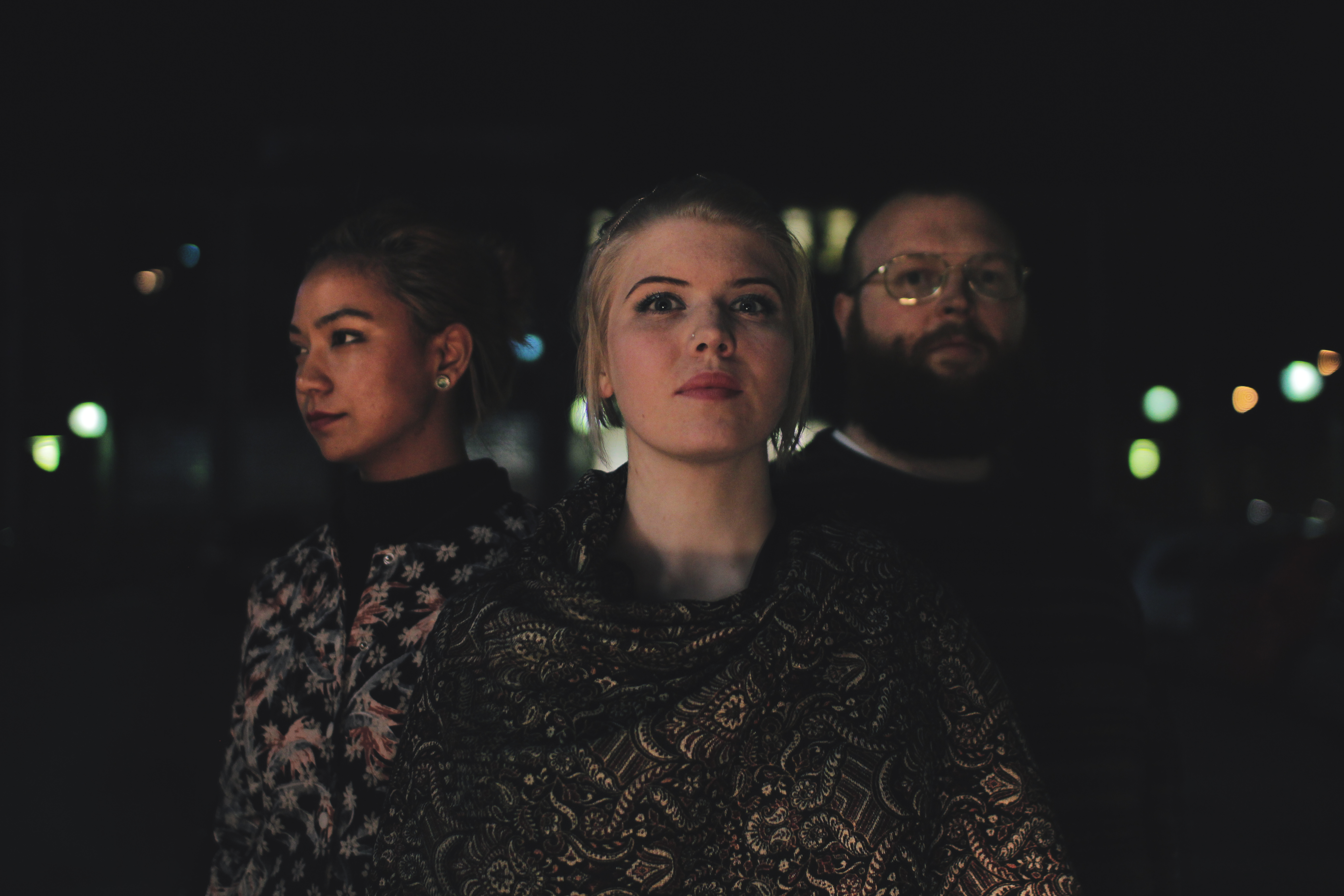 (E) Moksha is followed by Destreza Visa, aka Dahir Doni, is an artist and Dj raised in Mogadishu now based in Oslo. Dahir's sound is multi-influenced. Uptempo African rhythms against house and techno tropes, all to to reveal a new and confrontational personality, setting free both body and speech. See you on the dance floor!
Dahir Doni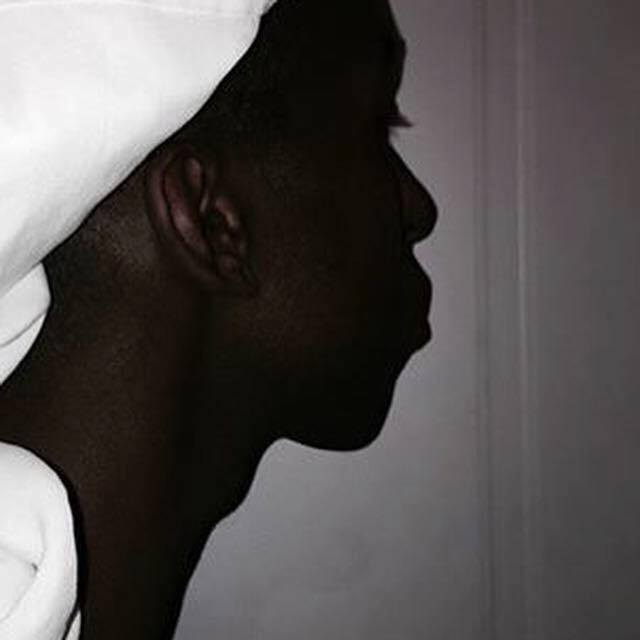 Bansal Band
Harpreets musikk, basert på den nord-indiske raga-tradisjonen, arrangeres av bandet i fellesskap, og bygges opp rundt de enkelte medlemmenes særpreg i en kombinasjon av improvisasjon og faste strukturer.
I Bansal Band er det rom for både melankoli og ro samt virtuositet og energi. Med kraften til den indiske musikken i ryggen og et sterkt fokus på formidling, ønsker bandet å nå ut til både et norskt og internasjonalt publikum. Bansal Band er et ensemble som takket være sin allsidige besetning finner seg like godt til rette i en klassisk kammermusikksal eller på en jazzklubb, som på et kulturhus foran et variert publikum.
Komposisjonene til Harpreet henger nært sammen med ragatradisjonen hun har vokst opp med og arrangementene er laget i samarbeid med og under veiledning fra produsent Jan Martin Smørdal. Arrangementene byr opp til lek og improvisasjon og henter inspirasjon fra alle utøverenes musikalske bakgrunner samtidig som respekten for tradisjonen alltid er tilstede. Bansal Band har tidligere spilt konserter i Norge, Europa og India og skal gi ut sitt debutalbum på Jazzland Recordings i 2017.
På scenen:
Javid Afsari Rad, santur
Vojtech Prochazka – harmonium/piano
Adrian Fiskum Myhr – kontrabass
Andreas Bratlie – tabla/perkusjon
Harpreet Bansal – fiolin
(E) Bansal Band plays new music by Harpreet Bansal based on the raaga tradition, arranged by Harpreet and the other members. The band focuses on playfulness and improvisation, and draws its inspiration from the musicians´ different backgrounds. The addition of bass and santur to the trio format opens new aural landscapes, which the musicians of Bansal Band explore with passion and abandon. Bansal Band received the Norwegian Art Council´s Ensemble Grant for 2014, and is also supported by Norway´s Artist Fund, Music Norway and Concerts Norway. The band´s first album is scheduled for release in 2017 on Jazzland Records. On stage:
Harpreet Bansal – violin
Andreas Bratlie – tabla, percussions, voice
Vojtech Prochazka – piano, harmonium
Javid Afsari Rad – santur
Adrian Myhr – double bass
Bansal Band