:: Nosizwe, Mathias Stubø, Amish 82, Soulbase, Studio 2
Blå | Klubb Koèju | 22:00-03:00 | 100,- | ID: 20
Arrangert i samarbeid med GLOBAL OSLO MUSIC.
A night where musicians replaces the dj and plays energetic club music 100% live. Hooot soul, new norwegian electronica, live house session & visuals!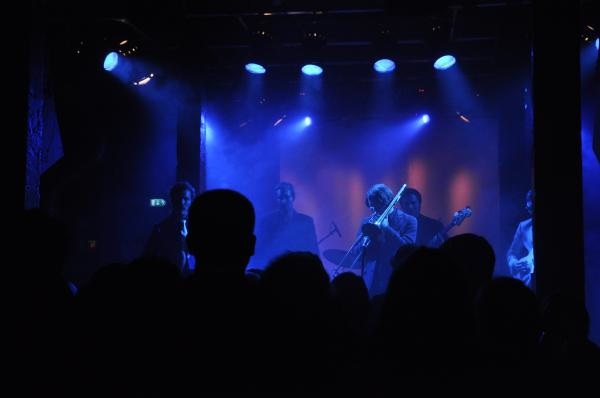 20:00 UTE: Studio 2 DJ Academy
22:00 Johanna Nordstrøm band
23:00 Beat impro m/ Mathias Stubø & Bendik Baksaas
24:00 Soulbase feat. Nosizwe & Zawadi
01:00 Amish 82
ARTISTS
Mathias Stubø – sampling
Nosizwe Baqwa – vocal
Bendik Baksaas – electronics
Robin Sohrabi-Shiraz – saxophone
Johanna Nordström – synth & vocals
Arthur Kay Piene – keys
Jonas Johnsen – drums
VJ Klubba
VJ Lille Marie
Jonathan Ahlbom – tuba
Snorre Valen – keys
SoulBase – dj/electronics
Zawadi – vocal
DJ Pradbeat
DJ Inkognito KA
Jørgen Meyer – electronic perc
Marius Gjersø – trumpet & fx
Svein Magnus Furu – saxophone
Bjørn Boassen – guitar
DJ Taktfull
Mari0 – ableton
Emanuel Svendson – drums
Bendik Hovik Kjeldsberg – drums & synth
Åsmund Skuterud – live beats
AMISH 82
Amish 82 har i svært lang tid vært et av de navnene folk nevnte først når det svært vitale elektromiljøet fra Trondheim skal oppsummeres. I flere år har de levert remixer for andre band i andre sjangere, vært et fyrverkeri på scenen og holdt elektrofanen høyt. Amish 82 er et band det bør danses hemningsløst til, tross kalde undertoner. 80-tallsestetikken er glassklar hele veien og inviterer til lange sommerkvelder bestående av kald krig, deilige long drinks og ungdommelig fryktløshet. Første singel fra albumet var låten Crocodile og den ble i juni 2011 kåret til Ukas Urørt og like etterpå listet på NRK P3 i lang tid. Dans til musikken. Skru opp til 10. Og la det aldri bli høst.
MATHIAS STUBØ
Mathias Stubø (født 1992 i Tønsberg) er en norsk musiker og DJ som produserer musikk innen sjangeren elektronika også kjent under navnet Proviant Audio. Allerede som fjortenåring ble han kåret til ukas Urørt i NRK P3 og i 2010 ble han nominert til Årets Urørt med prosjektet Proviant Audio. Han slapp to album i 2011. Stubø og livebandet hans har allerede spilt på flere store norske festivaler som Hovefestivalen, Kongsberg Jazzfestival, Slottsfjellfestivalen, Moldejazz 2011[1] og by:Larm 2010.[2] Han er sønn av jazzvokalisten Kjersti Stubø, sønnesønn av jazzgitaristen Thorgeir Stubø og nevø av jazzgitaristen Håvard og teaterdirektøren Eirik Stubø.
STUDIO 2 DJ ACADEMY
S2 is Norway's only DJ Academy. We offer quality and affordable performance and production courses ranging from beginners to advanced. All our courses are taken by professionals within the industry who will share their knowledge of years in the game. In addition S2 is a hot bed for all DJ and club related activities with a twist. At S2 we offer FRESH alternatives and a new but fun outlook to reflect the progression of our culture, but with a respect to the past. We also offer alternative education within schools based around music culture and the changes this has brought about.
KOÈJU PROJECT
A club concept dedicated to live dance music. Host band, guest artists, new expressions, live beats, electronic & acoustic music for the dancefloor. Previous guest artists: Bilal (US) & band, Bilal & band, Stian Carstensen, Eivind Aarset, Norwegian Chamber Orchestra, Arve Henriksen, Karl Seglem, Steinar Ofsdal, Mathias Eick, Rajasthan Roots, Mathias Stubø, Thomas Strønen, Morten Qvenild, Quick Crew (Dance) and many others!