VI FEIRER MUSIKKEN OG LIVET PÅ FÊTE DE LA MUSIQUE /
MAKING MUSIC AND CELEBRATING LIFE AT THE FÊTE DE LA MUSIQUE 

Når den 37. utgave av årtes musikkfest arrangeres i Frankrike på årets lengste dag, 21. juni, er vi på plass med vår egen scene i Paris for fjerde året på rad. Sammen med millioner av mennesker feirer vi denne dagen kjærligheten til musikken og livet. 120 land fulgte opp dette franske konseptet i 2017, enda flere ventes i år! 

(E) What better way to spend the longest day of the year, June 21, than with a worldwide celebration of music! 
We're all set for a new Global Oslo Music lineup in Paris at Fête de la Musique, a day millions of people come together to share their love for music and life, a French concept that has been adapted by 120 countries worldwide.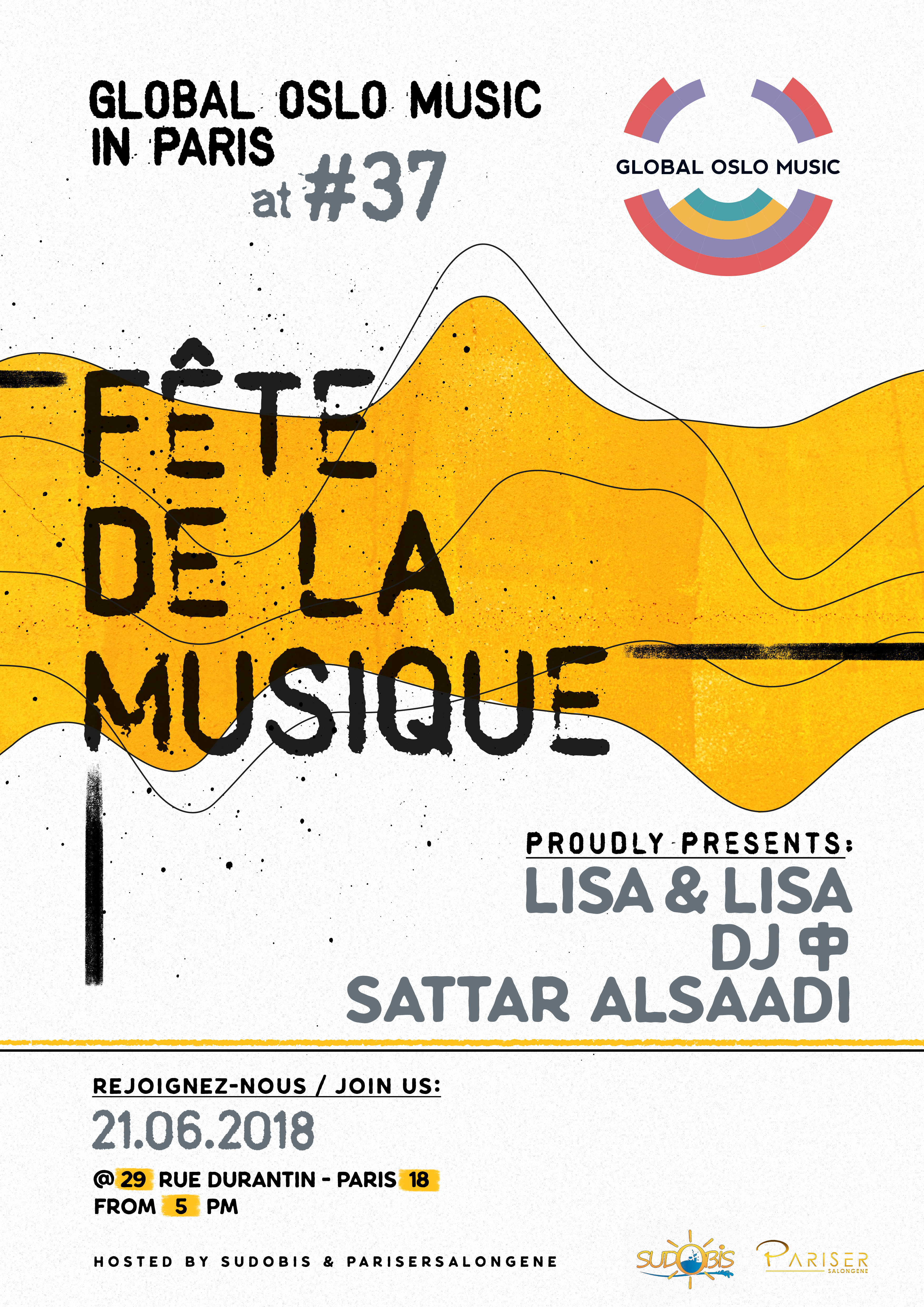 HVA ER FÊTE DE LA MUSIQUE? / WHAT IS FÊTE DE LA MUSIQUE? 

Fête de la Musique er den årlige musikkfesten som startet i Frankrike 21. juni 1982. "Musikken skal være overalt og konsertene ingensteds", uttalte den nyutnevnte franske direktøren for musikk og dans, Maurice Fleuret året i forvegen. 

Myndighetene var i gang med en omfattende undersøkelse av kulturaktiviteter i landet som avslørte at fem millioner mennesker spilte et instrument, men bare et fåtall hadde adgang til konsertscener. Dette ble opptakten til en ny era for musikklivet, der ikke minst større adgang til konsertscener skulle blir enklere for utøvere. 

Man ønsket seg dessuten en langt større åpenhet og oppmerksomhet rundt musikklivet, som skulle markeres gjennom det som skulle bli verdens største feiring av levende musikk i alle sjangre: Fête de la Musique, lagt til den lyseste og lengste dagen i den nordlige hemisfære. Alle som ønsket det kunne spille hvor som helst, hva de ønsket og så mye de hadde lyst til. 36 år senere lever fortsatt musikkfesten 21. juni, ikke bare over hele Frankrike, men i hele verden.

Global Oslo Music flytter i anledningen til Paris. Med en egen scene i hjertet av Montmartre, rammet inn av spektakulær historisk arkitektur, lover vi det beste av levende musikk, DJ's samt god mat og drikke. 

(E) "The music will be everywhere and the concert nowhere" said the French director of music and dance, Maurice Fleuret in 1981. A big survey on the cultural practices initiated by the Ministry of Culture in France, revealed that five million people played a musical instrument while only a minority of performing artists had access to concert venues. 

A change of the landscape of the musical practice in France was reclaimed by the authorities, leading up to the first Fête de la Musique: any kind of music, anywhere by anyone without hierarchy of kind nor origin – launched on June 21, 1982, summer solstice and the longest day of the year in the Northern Hemisphere. 

Therefor, on June 21, we take the opportunity to celebrate music – and life – along with millions of people across the globe. We promise you amazing artists performing live acts, spinning records & performances. 

ARTISTENE / THE ARTISTS

LISA & LISA
Fra Oslo kommer fabelaktige LISA & LISA. Dj-duoen inntok Oslos clubverden med sin helt egen mix av pop og elektronika, samt spektakulære sceneshow, i 2012, siden er de bare blitt omtalt som legendariske Lisa & Lisa. 

DJ ф
For de som bor på Montmartre kan man ikke ha gått glipp av stemmen som synger opera i gatene ut i de små nattetimer. 
DJ ф både synger og snurrer funky vinyl, vi har invitert ham for å sikre oss et forrykende show.

SATTAR ALSAADI 
Sattar er en fremragende musiker fra Bagdad vi har hatt gleden av å ha i vårt kunstnernettverk i mange år. Han er spesialisert i arabiske musikktradisjoner og spiller en rekke instrumenter, deriblant rytmeinstrumenter og Nay (fløyte). Til vår scene i Paris tar han med seg blant annet instrumentet derboka; som en av verdens fremste utøvere av instrumentet lover vi virtuos musikk med røtter til Mesopotamia. www.sattaralsaadi.nl

(E)
LISA & LISA
Fabulous Lisa & Lisa is a DJ duo that consists of the two Djs Lisa and Lisa. The funloving duo was formed in a dark and seedy bar in Oslo, Norway in late 2012 and ever since they have been dancing to the beat, mixing great pop and electronica tunes, always creating a party on the dance floor.
DJ ф
If you haven't already heard him singing opera late night in the streets of Montmartre, don't miss out on this opportunity to discover his great voice, and on top of that: DJ ф is spinning funky vinyls delivering a mind-bending show! 

SATTAR ALSAADI 
We have been delighted to work with Sattar Alsaadi for many years through a number of concerts and events in Oslo. Sattar is specialized in ethnic Arabic music: The Iraqi and all arabic Iqa'at (traditional drum rhythms of the Middle East) and the Taqsim (improvisations on Nay). We promise an outstanding performer! www.sattaralsaadi.nl

I Paris samarbeider Global Oslo Music med Sudobis og Parisersalongene / In collaboration with Sudobis and Parisesalongene