We are proud to present an extraordinary new commission by renowned artist Becaye Aw. After establishing himself as a significant composer of original music during the making of his solo album "Sibi", the piece "Off Road" will mark his first foray into commissioned music for a large ensemble. In this, Aw is combining elements of music rooted in the traditional Fulani music from West Africa with Norwegian folk music, making his own new style.
To premiere at Cafeteatret // Hollendergata 8 // October 25 // 21:00 // cc 100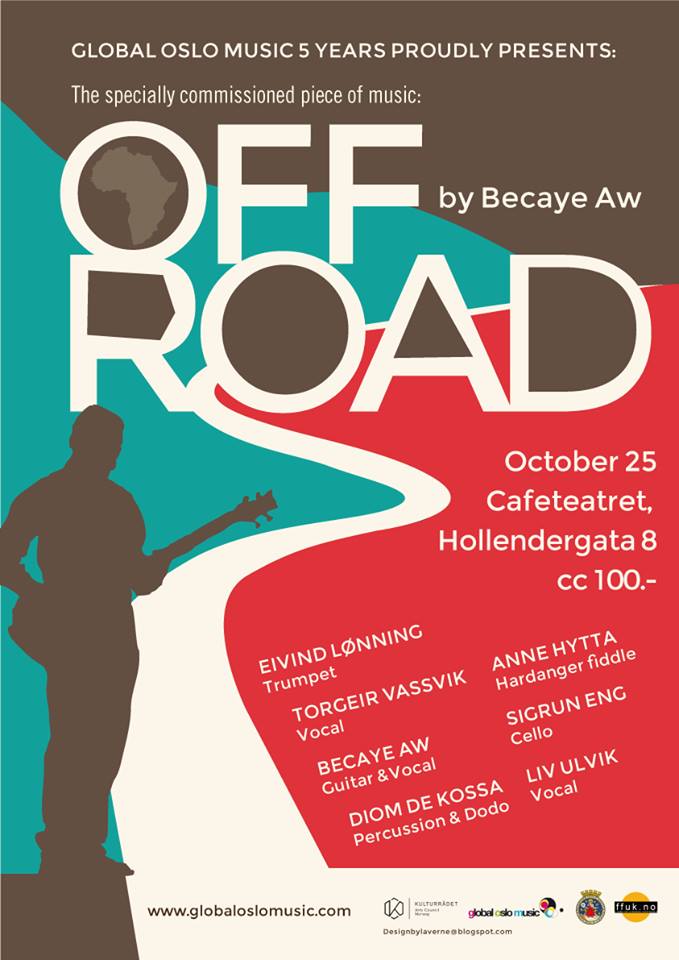 Global Oslo Music lanserer i høst bestillingsverket "Off Road" av Becaye Aw som en del av virksomhetens femårsmarkering. Inspirasjonen til verket er i hovedsak folkemusikk og tradisjonell musikk fra ulike regioner i Vest Afrika, men også norske folketoner utgjør en viktig kilde. I denne sammenheng har Aw valgt en utradisjonell sammensetning av stemmer og instrumenter der kvarttoneskalaer og rytmer har en sentral plass. Gjennom et samspill av mangfoldige uttrykksformer, som også vil gi plass til det særegne ved den enkelte utøver, er grunnlaget for et originalt lydbilde skapt. Aw understreker inspirasjonen han finner i særlig krysningspunktet hardingfele og seljefløyte, her blant annet gjennom norsk Gorrlaus skala, og elementer fra Fulanimusikken -kulturen han selv har opprinnelse i.
Line up:
Becaye Aw: Guitar, vocal
Liv Ulvik: Vocal
Torgeir Vassvik: Vocal
Anne Hytta: Hardanger fiddle
Sigrun Eng: Cello
Eivind Lønning: Trumpet
Diom de Kossa: Percussion and Dodo


Becaye Aw: Komponist og gitarist fra Vest Afrika.
Aw startet sin karriere i Dakar, kjent for å ha utviklet en egen gitarteknikk
— tett opptil spilleteknikk som benyttes på instrumentet kora — som har gitt
ham en særegen sound. Han utga sitt første prisbelønte soloalbum "Sibi"
i 2008, og har samarbeidet med en rekke artister, deriblant Baaba Maal,
Ali Farka Toure, Haddy N'jie og Women's Voice. Han er fortiden aktuell
med egen trio, i samarbeid med Helge Norbakken og Olav Torget.