KOÈJU på BLÅ 5. oktober: T. Strønen, A.
Tobi, S. Blackman, S.O. Toft, H. Bansai
22:00-03:00 / cc 100.-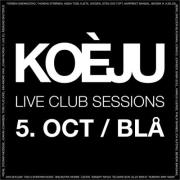 Koèju har gleden av å presentere en formidabel artist lineup med bl.a. jazztrommeslager og komponist Thomas Strønen og hans slagverksensemble, plateaktuelle Sheldon Blackman, multiinstrumentalist Aissa Tobi, Kjetil Ovesen fra 120 days, jazzsaksofonist Torben Snekkestad, fiolinist Harpreet Bansal, up&coming vokalist Baba Soul m.fl.
Koèju er et konsept der musikere spiller live klubbmusikk ved bruk av akustiske og elektroniske instrumenter. Et host band og en drøss med gjesteartister holder dansegulvet i kok og utforsker nye typer live beats. Koèju på Blå er arrangert i samarbeid med Global Oslo Music.
http://www.koeju.com/
Vi starter kvelden med Thomas Strønens slagverksensemble kl.22.30 (presis), etterfulgt av en rekke klubbsett utover nattetimene. Kom og dans og lytt og se beat making i praksis!
ARTISTS
Torben Snekkestad – saxophones
Thomas Strønen – percussion [Food]
Aissa Tobi – loutar [Tassili]
Kjetil Ovesen – synthesizers [120 Days]
Sten Ove Toft – guitar & fx
Harpreet Bansal – violin
Bendik H. Kjeldsberg – electronics [Shimmering]
Sheldon Blackman – voc & guitar
Jonas B. Johnsen – drums [Disaster in the Universe]
Baba Soul – vocal
Marius Gjersø – trumpet & fx
Philipp Barnes – bass
Ida Alfstad – vocal
Bendik Baksaas – electronics [Proviant Audio]
Jørn Jam Hansen – guitar
Charlotte dos Santos – vocal
Stian Larsen – guitar [kÖök]
Dizzet – mc
Simon Valentine – electronics
Svein Magnus Furu – saxophone
Arthur Kay Piene – keys [Dr. Kay & H.I.T.S.]
// NMH Drum Ensemble:
Steinar Mossige
Joakim Johansen
Tore Flatjord
Kim André Vian
Johan Nordh
// Live DJ: Åsmund Skuterud
TORBEN SNEKKESTAD
http://www.torbensnekkestad.com/
SHELDON BLACKMAN
http://www.sheldonblackman.com/category/video/
AISSA TOBI
http://www.youtube.com/watch?v=O7cOg4eYrt0&feature=relmfu

IDA ALFSTAD
http://www.youtube.com/watch?v=wpfEgGK3Oqc
KJETIL OVESEN
http://www.youtube.com/watch?v=7T131EHrplY
BABA SOUL
http://www.babasoul.com/
STEN OVE TOFT
http://www.youtube.com/watch?v=vUo1vGyd1Wg
HARPREET BANSAL
http://www.youtube.com/watch?v=DsBt_4NBUro&feature=related
JØRN JAM HANSEN
http://www.youtube.com/watch?v=NaaeyjQybNU
CHARLOTTE DOS SANTOS
http://www.nrk.no/urort/Artist/CharlotteDosSantos/
DIZZET
http://www.nrk.no/urort/Artist/DIZZETGodStemning/
POHLITZ EXTENDED GROUND + TORBEN SNEKKESTAD
Vi er heldige og får på nytt gjensyn med dette ensemblet som består av slagverkselever fra Norges Musikkhøyskole, ledet av maestro Thomas Strønen. Strønen har også skrevet all musikken til konserten, og i anledning denne fremføringen har han fått inn en utsøkt saxofonist som er best kjent fra den danske jazzscenen, Torben Snekkestad. Musikken er spennende, både rytmisk og lydmessig, og i tillegg energisk, pulserende, mao. en perfekt start på en klubbkveld!
KOÈJU PROJECT
A club concept dedicated to live dance music. Host band, guest artists, new expressions, live beats, electronic & acoustic music for the dancefloor. Previous guest artists: Bilal (US) & band, Stian Carstensen, Eivind Aarset, Norwegian Chamber Orchestra, Arve Henriksen, Karl Seglem, Steinar Ofsdal, Mathias Eick, Rajasthan Roots, Mathias Stubø, Nosizwe Baqwa, Thomas Strønen, Morten Qvenild, Quick Crew (Dance), Per Oddvar Johansen and many others!