I denne fjerde utgaven av vår nye konsertserie på det flotte Deichmanske bibliotek på Grünerløkka, inviterer vi til en sjelden opplevelse av nye og klassiske arabiske musikktradisjoner, fremført av de fremragende musikerene Safaa Al-Saadi og Mathilde Grooss Viddal på arabiske fløyter og perkusjon, saksofon og tangenter.
(E) The 4th edition of our new concert series Global @ Deichmanske at the beautiful and old library in Grünerløkka downtown Oslo, brings you extraordinary music rooted in new and old arabic traditions, performed by the exquisite musicians Safaa Al-Saadi og Mathilde Grooss Viddal on arabic flutes and percussion, saxophone and keyboard.
@ Deichmanske bibliotek, Grünerløkka, Schous plass 10 / 14'00 – 2pm / fri inngang – free entry – Welcome!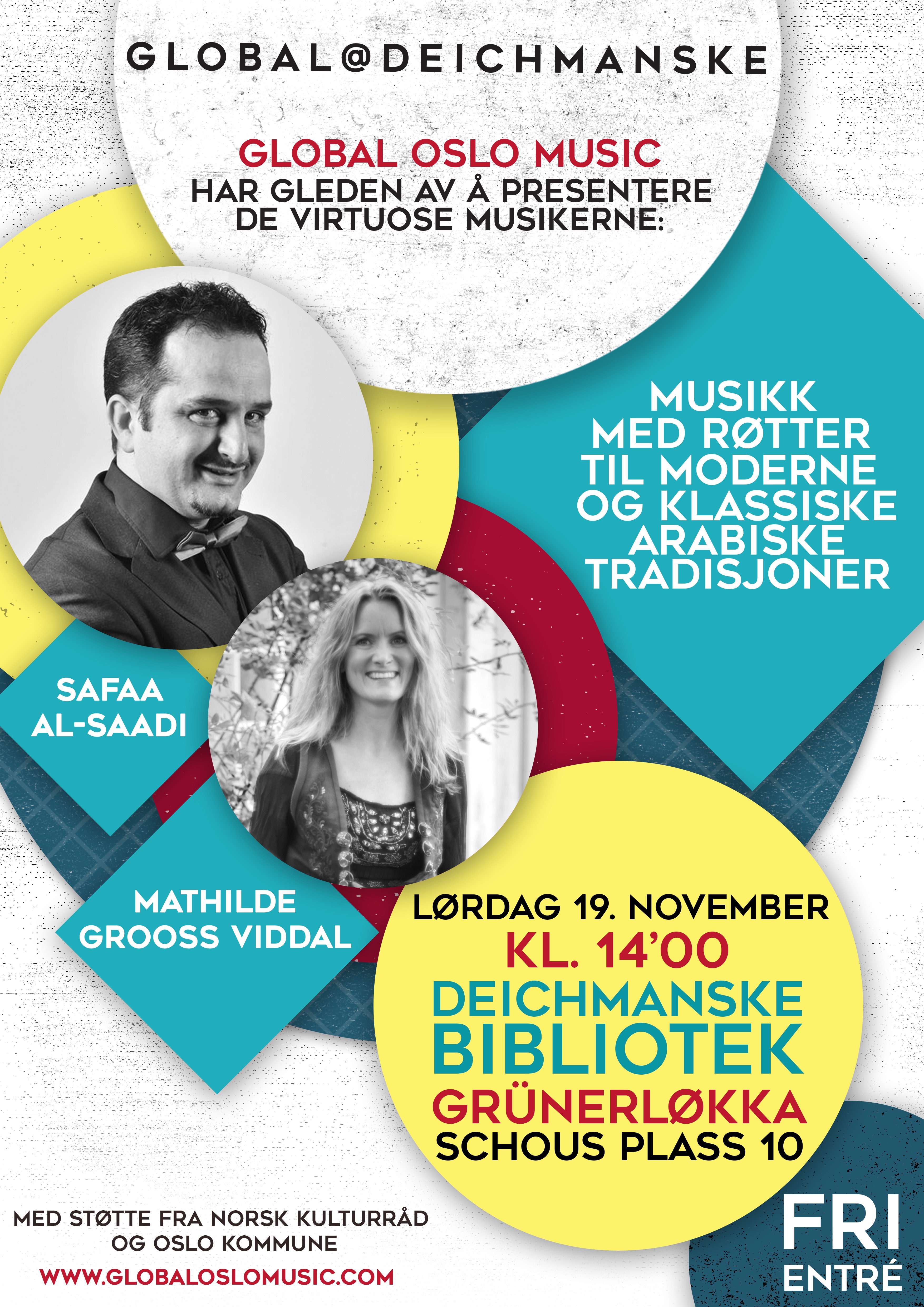 Safaa Al-Saadi
Frilansmusiker, komponist, arrangør og musikklærer som har undervist og turnert over hele Europa. Som multiinstrumentalist spiller Al-Saadi et bredt spekter av instrumenter, deriblant arabiske fløyter og perkusjon, tangenter og piano. Blant hans komposisjoner finner vi "Broer av musikk", et bestillingsverk på oppdrag fra Global Oslo Music som premierte i Oslo i 2014. I dette verket kunne vi oppdage hans vakre, sterke og komplekse musikk med røtter dypt forankret i tradisjoner fra Mesopotamia. web.
(E) Baghdad-born Safaa Al-Saadi is a freelance musician, composer, arranger and music teacher. He has been teaching and touring extensively throughout Europe over the past years. As a multi-instrumentalist, Al-Saadi plays a wide range of instruments such as arabic flutes and percussion, keyboard and piano. Among his compositions is "Broer av musikk", a piece commissioned by Global Oslo Music that premiered in 2014 in Oslo where one could discover his beautiful, powerful and often complex music, deeply rooted in traditions from Mesopotamia. web.
Mathilde Grooss Viddal
Blant nordens ledende ensemblekomponister, arrangører, orkesterledere og utøver, med fire CD-utgivelser av Friensemblet hun leder som har begeistret jazzanmeldere fra flere kontinenter. Hun har turnert i Norge og internasjonalt med forskjellige konstellasjoner, har bidratt på en titalls CD- utgivelser og hatt flere bestillingsverkoppdrag, blant annet for Henie Onstad Kunstsenter, BIME Internasjonale Marionett Festival, Ingreja de Sao Vicente i Portugal og Vossa Jazz' 40-årsjubileum i 2013. Hun er fortiden aktuell som residerende kapellmester på Kampenjazz i Oslo. I 2006 mottok hun Statens 3-årige kunstnerstipend. web.
(E) One of the leading composers, arrangers and bandleaders in the Nordic region and musician. She is the leader of the orchestra Friensemblet, their four cds released have thrilled jazz reviewers from several continents. Seen on most venues in Norway and touring internationally with different constellations. Grooss Viddal has also done commissioned work for Henie Onstad Art Centre, BIME International Puppet Festival, Ingreja de Sao Vicente in Portugal and Vossa Jazz 40th Anniversary 2013. She has also been on a dozen CD releases and is currently a resident conductor at Kampenjazz in Oslo. In 2006 she received the Norwegian Government – 3 years – Grants for Artists. web.