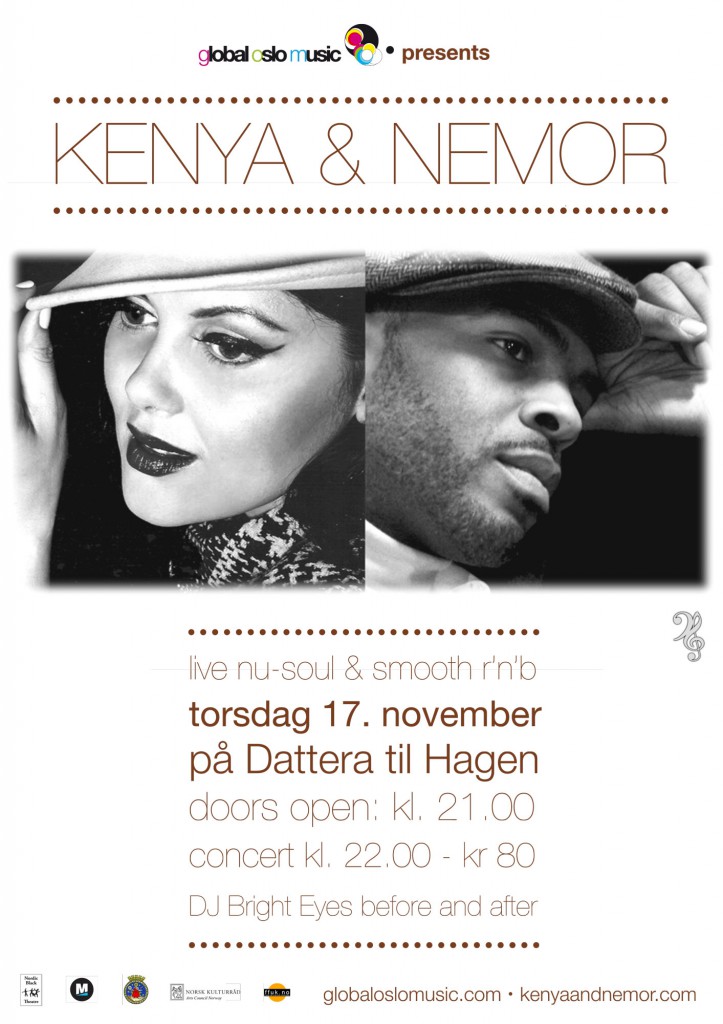 Mens vi venter på

plateselskapene

å

oppdage denne

sizzling

duoen

presenterer vi

live 

nu-

soul

og

funky

r'n'b

med

KENYA

&

NEMOR

+

​​bånd!

Torsdag 17. november
på Dattera til Hagen
Dørene åpner kl 21:00> konserten starter kl 22:00
inngang: kr 80

DJ Bright Eyes spiller før og etter

Om Kenya & Nemor:
En smooth og sanselige lyden av sin egen påvirket av slike som Marvin Gaye, Earth Wind & Fire, Atlantic Starr, Sade, Jill Scott og Maxwell bare for å nevne noen, og du har Kenya og Nemor.

Kenya og Nemor ga ut sitt debut album "Just Becuz" i september 2011

kenyaandnemor.com
English:
While we wait for record companies to discover this sizzling duo we present live nu-soul and funky r'n'b with KENYA & NEMOR + band
thursday 17th november
at Dattera til Hagen
doors open at 21:00 > concert starts at 22:00
entrance: kr 80
DJ BRIGHT EYES plays before and after
About Kenya & Nemor:
A smooth and sensuous sound of their own influenced by the likes of Marvin Gaye, Earth Wind & Fire, Atlantic Starr, Sade Jill Scott and Maxwell just to name a few and you have Kenya and Nemor.
Kenya and Nemor released their debut album in september 2011
If the midnight sun had a voice, it would touch that inner chord that transforms simple tones into something so much greater. That is the vocal caliber of Icelandic-American Kenya Emil, lead singer of the duet Kenya and Nemor, who are gearing up to bring their music to audiences all over the world. Behind Kenya shines a radiant Southern moon that shrouds her softly sung melody with the perfect texture to make the sensation complete. It is Jay Nemor, a Texan songwriter deeply connected to the very roots of soul music. When they perform, the audience asks itself: "Why don't they make music like that anymore?" Well, they do and it manifests itself in this duo.
Debut Album – Just Becuz
The album Just Becuz has been a long process for the duo.  Two souls from two different worlds collaborating  to fuse their different perspectives of the colors of music.  The connection was instant and their perspectives just seemed to blend together to form a warm blanket of sound which is now available for the world to enjoy!  Available here at our site,Itunes, Amazon, facebook and more to come.  For those who would like to order physical copies click here. Also available soon on vinyl!
kenyaandnemor.com